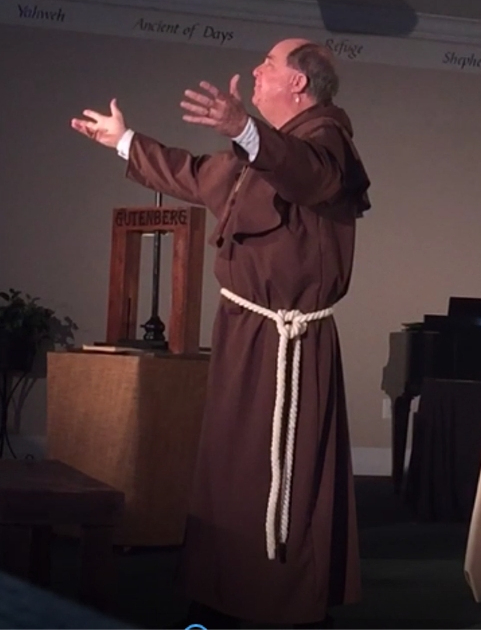 Endorsement by Pastor Kurt Taylor, St. John's Lutheran, Waltz MI.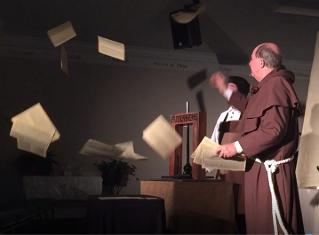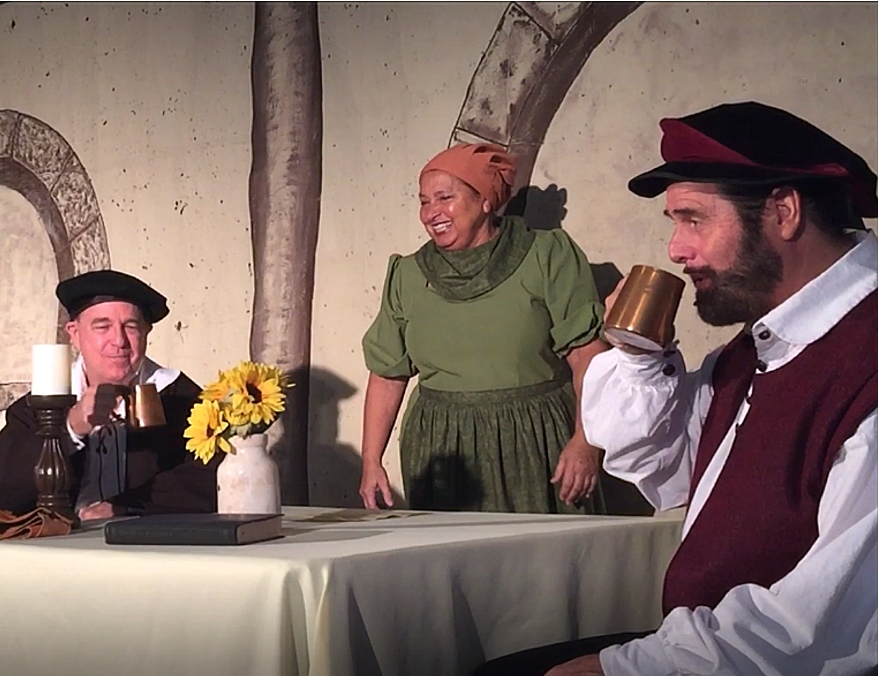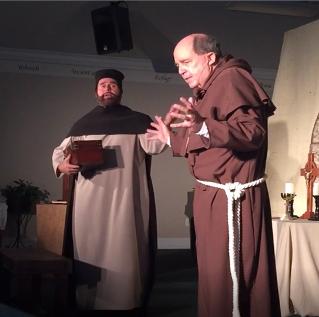 Complete Video of By Faith Alone
OVERVIEW OF THE PRODUCTION
This production was created to honor the great reformer on the 500th anniversary of the posting of the 95 Theses in 1517. The cast of characters includes Martin Luther, his parents: Hans and Margarethe, Johann Tetzel, the Chancellor at the Diet of Worms, and members of Luther's reformed congregation.

The production covers:
Early Life, becoming a monk, visit to Rome
His Great Awakening in Wittenberg finding salvation by faith alone

95 Theses - 1517
Johann Tetzel's Indulgences

Councils, debates and publications
Diet of Worms (trial for heresy)
Beginnings of the reformation church
Psalm 46 - A Mighty Fortress Is Our God, congregational sing along followed by congregational reading of the Five Solas (see below)

Production Length:55 minutes which includes congregational singing of 2 verses of A Mighty Fortress Is Our God and congregational reading of the Five Solas (see below)

Cast Required: None

AUDIENCE COMMENTS
By Faith Alone is truly a play inspired by God's Spirit. Our members learned many things that they didn't know about Luther and the Gospel came through loud and clear. Dennis Rupert, Pastor, Morning Star Presbyterian Church, Vero Beach FL
I was absolutely impressed by His Majesty's Ministries Luther production. As a fan of church history, I can only applaud the historical accuracy of Luther's story. Along with staying true to history I felt drawn in by the story as they played it out. The part I loved most though was that the play was saturated with the gospel. Luther gives believers an insight into how the Protestant church got to be where it is today and exposes non-believers to the gospel. I highly recommend churches and para-church ministries to see this play." David LeRoy, Youth Pastor, Westminster Presbyterian Church, Bluefield WV
We were especially moved by the words of the song By Faith Alone sung by Martin as a testimony of his new realization that becoming a Christian was not through good works but through faith alone in Christ Jesus. A truth through song that will be an encouragement to believers and an invitation to unbelievers to find rest and peace in trusting Christ. Audience Member
Before watching this drama, I had no idea who Martin Luther was. The drama helped me know who he was and what he accomlished. The performance was eye-opening. I thoroughly enjoyed it not only for the education but also for the Biblical content. The way it is presented makes it understable from youth on up. Audience Member
For all who long to stand righteous before our holy God, but who know they are failures, this play is a must. His Majesty's Ministries depicts in delightful music and drama the story of Martin Luther, the monk who 500 years ago discovered the Bible's long neglected teaching on justification—how by faith alone in Jesus Christ alone, God accounts us as "righteous." Audience Member
Having been raised in Germany and taught about Luther there, I can say that the portrayal of Luther and the events you included in your drama are very accurate. Your production was a great encouragement. Audience Member

THE FIVE SOLAS FROM THE REFORMATION
(Sola is Latin for alone)
By Scripture alone: The Bible alone is our total authority over what is true and necessary concerning salvation.(2 Tim. 3:15)

By grace alone: Salvation is by God's grace alone, without our having to earn it or deserve it first. (Eph. 2:4)

By faith alone: We are justified by God through faith alone, our total trust in Jesus Christ. (Gal. 3:11)

In Christ alone: It is in the person and work of Christ alone that serves as the basis for our relationship with God, with no room or need for any other mediator. (1 Tim. 2:5)

T

o the glory of God alone:

Since the Word of God teaches that we are saved by God's grace alone, through faith alone, in Christ alone, the only proper response is to God alone be the glory, without any credit taken by ourselves.

(1 Cor. 10:31)