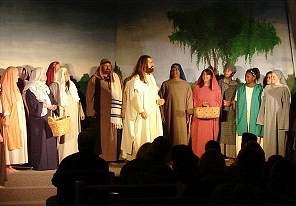 He was born in a tiny village near Jerusalem called Bethlehem. He grew up in another small village in the Galilee region of Israel called Nazareth. He worked as a carpenter until He was thirty years old and then began to teach with great authority about the Kingdom of Heaven. He raised the dead, healed the blind, the sick, and the crippled. All who witnessed these were amazed. Yet, the most powerful of all were His WORDS! They gave HOPE to all who heard them!
In this original musical drama, join Jesus as He performs many miracles by the sea of Galilee, teaches from the Sermon on the Mount, meets with Nicodemus, enters Jerusalem on Palm Sunday, suffers the crucifixion and triumphs in His Resurrection.
Production Length:
45 minutes
Cast Required:
12 men, 12 women (including 3 or 5 folk dancers), youth welcome)
Click here for cast list
Rehearsal needed: Approximately two 3 hour rehearsals
We provide all costumes, props and sound and lighting equipment for the production.There is no set fee, but a free-will offering would be appreciated to cover our expenses. To contact us about your interest or questions go to the
Contact Us page
.
We look forward to a meaningful time of worship together.
NOW AVAILABLE FOR PURCHASE ONLINE!
Purchase this album for download in mp3 format at CDBaby.
iTunes compatible format.
"A wonderful and inspiring ministry. The song "Who Is This Man?" is very touching and beautiful. One thing that I am especially impressed by is the fact that so many people with ordinary talents on short notice can have a wonderful opportunity to witness." Dot

"It was like I was hearing the Sermon on the Mount for the first time. Seeing the characters sitting around and listening to Jesus made it much more real." Carrie

"This was the most anointed of any type of production I've seen anywhere in the world." Betty